About Us
China Daddy is a Chinese takeaway in Glasgow. Why don't you try our Roast Pork with Pineapple or Tom Yum Soup?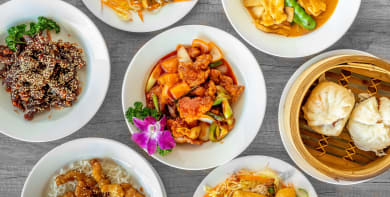 Reviews
328 reviews
Katie
"Food was great & delivery 5/10 mins earlier (bonus cause a was hungry) & driver was friendly & polite x"
18/01/2021
Catherine
"Excellent customer service from both the restaurant and the delivery driver as usual ⭐⭐⭐⭐⭐ Food is delicious as always!"
17/01/2021
Emma
"Delivery driver is so friendly and polite! Food was great gave Chinese 😍"
13/01/2021
Mallika
"Very good ❤️❤️❤️"
12/01/2021
Menu
Munchie Box
4x Onion rings, 4x chicken wings, 4x chicken balls, 4x mini spring rolls, 4x ribs, 1 chips with curry, BBQ OR sweet & sour sauce (other any sauce £1.00 extra)
£11.00
Spicy Munchie Box
4x Ribs, 4x chicken wings, 4x chicken balls, 4x mini spring rolls, spicy chicken bites, 1 chips with curry, BBQ OR sweet & sour sauce (other any sauce £1.00 extra)
£13.00
Roast Pork with Pineapple
£4.70
Roast Pork with Cashew Nuts
£4.70
Roast Pork with Bamboo Shoot & Water Chestnuts
£4.70
Roast Pork Szechuan Style
£4.70
Roast Pork with Oyster Sauce
£4.70
Roast Pork with Garlic Chilli Sauce
£4.70
Roast Pork with Green Pepper & Black Bean Sauce
£4.70
Roast Duck with Lemon Sauce
£6.00
Roast Duck with Orange Sauce
£6.00
Roast Duck with Plum Sauce
£6.00
Roast Duck with Pineapple
£6.00
Roast Duck with Cashew Nuts
£6.00
Roast Duck with Bamboo Shoots & Water Chestnuts
£6.00
Roast Duck with Ginger & Spring Onion
£6.00
Roast Duck with Oyster Sauce
£6.00
Roast Duck with Garlic Chilli Sauce
£6.00
Roast Duck with Green Pepper & Black Bean Sauce
£6.00
Roast Duck with Black Pepper Sauce
£6.00
Sliced Breast of Chicken Curry
Chicken with Green Peppers & Black Bean Sauce
Crispy Chicken Cantonese Style
Beef with Green Peppers & Black Bean Sauce
Mixed Vegetable with Curry Sauce
Mixed Vegetable with Sweet & Sour Sauce
Mixed Vegetable Chow Mein
Mixed Vegetable Fried Rice
Honey & Chilli Chicken Wings
Salt & Pepper Chicken Balls
Salt & Pepper Chicken Wings
Roast Pork with Pineapple
Roast Pork with Oyster Sauce
Sweet & Sour Chicken Cantonese Style
Thai Roast Pork Chow Mein
X Chicken Wings with Gravy
Sweet & Sour Chicken Batter
Sweet & Sour Chicken Batter (8)
Sweet & Sour Chicken Hong Kong Style
Sweet & Sour Chicken Hong Kong Style
Roast Pork with Oyster Sauce
Roast Pork with Pineapple
Roast Pork with Pineapple Fried Rice
Salt & Pepper Chicken Wings
Shredded Chicken with Chilli Sauce
Salt & Pepper Chicken Balls
Sliced Breast of Chicken Curry
Starter: Chicken Balls (4)
Chicken Sweetcorn Soup*Chicken Mushroom Soup*Honey Chilli Chicken Wings*Spare Ribs with BBQ Sauce*Mini Veg Spring Roll (8)*Salt & Chilli Chips*Salt & Chilli Chicken Balls*Dragon Balls (5)*Chicken Noodle Soup*Mixed Vegetable Soup*Dry Spare Ribs*Chicken Balls (4)*Sesame Prawn Toast (4)*Salt & Pepper Chicken Wings*Sweet Chilli Chicken Wings*Peking Ribs
Starter: Chicken Mushroom Soup
Chicken Sweetcorn Soup*Chicken Mushroom Soup*Honey Chilli Chicken Wings*Spare Ribs with BBQ Sauce*Mini Veg Spring Roll (8)*Salt & Chilli Chips*Salt & Chilli Chicken Balls*Dragon Balls (5)*Chicken Noodle Soup*Mixed Vegetable Soup*Dry Spare Ribs*Chicken Balls (4)*Sesame Prawn Toast (4)*Salt & Pepper Chicken Wings*Sweet Chilli Chicken Wings*Peking Ribs
Starter: Chicken Noodle Soup
Chicken Sweetcorn Soup*Chicken Mushroom Soup*Honey Chilli Chicken Wings*Spare Ribs with BBQ Sauce*Mini Veg Spring Roll (8)*Salt & Chilli Chips*Salt & Chilli Chicken Balls*Dragon Balls (5)*Chicken Noodle Soup*Mixed Vegetable Soup*Dry Spare Ribs*Chicken Balls (4)*Sesame Prawn Toast (4)*Salt & Pepper Chicken Wings*Sweet Chilli Chicken Wings*Peking Ribs
Starter: Chicken Sweetcorn Soup
Chicken Sweetcorn Soup*Chicken Mushroom Soup*Honey Chilli Chicken Wings*Spare Ribs with BBQ Sauce*Mini Veg Spring Roll (8)*Salt & Chilli Chips*Salt & Chilli Chicken Balls*Dragon Balls (5)*Chicken Noodle Soup*Mixed Vegetable Soup*Dry Spare Ribs*Chicken Balls (4)*Sesame Prawn Toast (4)*Salt & Pepper Chicken Wings*Sweet Chilli Chicken Wings*Peking Ribs
Starter: Dragon Balls (5)
Chicken Sweetcorn Soup*Chicken Mushroom Soup*Honey Chilli Chicken Wings*Spare Ribs with BBQ Sauce*Mini Veg Spring Roll (8)*Salt & Chilli Chips*Salt & Chilli Chicken Balls*Dragon Balls (5)*Chicken Noodle Soup*Mixed Vegetable Soup*Dry Spare Ribs*Chicken Balls (4)*Sesame Prawn Toast (4)*Salt & Pepper Chicken Wings*Sweet Chilli Chicken Wings*Peking Ribs
Starter: Dry Spare Ribs
Chicken Sweetcorn Soup*Chicken Mushroom Soup*Honey Chilli Chicken Wings*Spare Ribs with BBQ Sauce*Mini Veg Spring Roll (8)*Salt & Chilli Chips*Salt & Chilli Chicken Balls*Dragon Balls (5)*Chicken Noodle Soup*Mixed Vegetable Soup*Dry Spare Ribs*Chicken Balls (4)*Sesame Prawn Toast (4)*Salt & Pepper Chicken Wings*Sweet Chilli Chicken Wings*Peking Ribs
Starter: Honey Chilli Chicken Wings
Chicken Sweetcorn Soup*Chicken Mushroom Soup*Honey Chilli Chicken Wings*Spare Ribs with BBQ Sauce*Mini Veg Spring Roll (8)*Salt & Chilli Chips*Salt & Chilli Chicken Balls*Dragon Balls (5)*Chicken Noodle Soup*Mixed Vegetable Soup*Dry Spare Ribs*Chicken Balls (4)*Sesame Prawn Toast (4)*Salt & Pepper Chicken Wings*Sweet Chilli Chicken Wings*Peking Ribs
Starter: Mini Veg Spring Roll (8)
Chicken Sweetcorn Soup*Chicken Mushroom Soup*Honey Chilli Chicken Wings*Spare Ribs with BBQ Sauce*Mini Veg Spring Roll (8)*Salt & Chilli Chips*Salt & Chilli Chicken Balls*Dragon Balls (5)*Chicken Noodle Soup*Mixed Vegetable Soup*Dry Spare Ribs*Chicken Balls (4)*Sesame Prawn Toast (4)*Salt & Pepper Chicken Wings*Sweet Chilli Chicken Wings*Peking Ribs
Starter: Mixed Vegetable Soup
Chicken Sweetcorn Soup*Chicken Mushroom Soup*Honey Chilli Chicken Wings*Spare Ribs with BBQ Sauce*Mini Veg Spring Roll (8)*Salt & Chilli Chips*Salt & Chilli Chicken Balls*Dragon Balls (5)*Chicken Noodle Soup*Mixed Vegetable Soup*Dry Spare Ribs*Chicken Balls (4)*Sesame Prawn Toast (4)*Salt & Pepper Chicken Wings*Sweet Chilli Chicken Wings*Peking Ribs
Starter: Peking Ribs
Chicken Sweetcorn Soup*Chicken Mushroom Soup*Honey Chilli Chicken Wings*Spare Ribs with BBQ Sauce*Mini Veg Spring Roll (8)*Salt & Chilli Chips*Salt & Chilli Chicken Balls*Dragon Balls (5)*Chicken Noodle Soup*Mixed Vegetable Soup*Dry Spare Ribs*Chicken Balls (4)*Sesame Prawn Toast (4)*Salt & Pepper Chicken Wings*Sweet Chilli Chicken Wings*Peking Ribs
Starter: Salt & Chilli Chicken Balls
Chicken Sweetcorn Soup*Chicken Mushroom Soup*Honey Chilli Chicken Wings*Spare Ribs with BBQ Sauce*Mini Veg Spring Roll (8)*Salt & Chilli Chips*Salt & Chilli Chicken Balls*Dragon Balls (5)*Chicken Noodle Soup*Mixed Vegetable Soup*Dry Spare Ribs*Chicken Balls (4)*Sesame Prawn Toast (4)*Salt & Pepper Chicken Wings*Sweet Chilli Chicken Wings*Peking Ribs
Starter: Salt & Chilli Chips
Chicken Sweetcorn Soup*Chicken Mushroom Soup*Honey Chilli Chicken Wings*Spare Ribs with BBQ Sauce*Mini Veg Spring Roll (8)*Salt & Chilli Chips*Salt & Chilli Chicken Balls*Dragon Balls (5)*Chicken Noodle Soup*Mixed Vegetable Soup*Dry Spare Ribs*Chicken Balls (4)*Sesame Prawn Toast (4)*Salt & Pepper Chicken Wings*Sweet Chilli Chicken Wings*Peking Ribs
Starter: Salt & Pepper Chicken Wings
Chicken Sweetcorn Soup*Chicken Mushroom Soup*Honey Chilli Chicken Wings*Spare Ribs with BBQ Sauce*Mini Veg Spring Roll (8)*Salt & Chilli Chips*Salt & Chilli Chicken Balls*Dragon Balls (5)*Chicken Noodle Soup*Mixed Vegetable Soup*Dry Spare Ribs*Chicken Balls (4)*Sesame Prawn Toast (4)*Salt & Pepper Chicken Wings*Sweet Chilli Chicken Wings*Peking Ribs
Starter: Sesame Prawn Toast (4)
Chicken Sweetcorn Soup*Chicken Mushroom Soup*Honey Chilli Chicken Wings*Spare Ribs with BBQ Sauce*Mini Veg Spring Roll (8)*Salt & Chilli Chips*Salt & Chilli Chicken Balls*Dragon Balls (5)*Chicken Noodle Soup*Mixed Vegetable Soup*Dry Spare Ribs*Chicken Balls (4)*Sesame Prawn Toast (4)*Salt & Pepper Chicken Wings*Sweet Chilli Chicken Wings*Peking Ribs
Starter: Spare Ribs with BBQ Sauce
Chicken Sweetcorn Soup*Chicken Mushroom Soup*Honey Chilli Chicken Wings*Spare Ribs with BBQ Sauce*Mini Veg Spring Roll (8)*Salt & Chilli Chips*Salt & Chilli Chicken Balls*Dragon Balls (5)*Chicken Noodle Soup*Mixed Vegetable Soup*Dry Spare Ribs*Chicken Balls (4)*Sesame Prawn Toast (4)*Salt & Pepper Chicken Wings*Sweet Chilli Chicken Wings*Peking Ribs
Starter: Sweet Chilli Chicken Wings
Chicken Sweetcorn Soup*Chicken Mushroom Soup*Honey Chilli Chicken Wings*Spare Ribs with BBQ Sauce*Mini Veg Spring Roll (8)*Salt & Chilli Chips*Salt & Chilli Chicken Balls*Dragon Balls (5)*Chicken Noodle Soup*Mixed Vegetable Soup*Dry Spare Ribs*Chicken Balls (4)*Sesame Prawn Toast (4)*Salt & Pepper Chicken Wings*Sweet Chilli Chicken Wings*Peking Ribs
Stir Fried Roast Pork Satay
Roast Pork & Ham Fried Rice
Mixed Vegetable Chow Mein
Mixed Vegetable with Black Bean Sauce
Mixed Vegetable with Curry Sauce
Mixed Vegetable Fried Rice
Mixed Vegetable with Sweet & Sour Sauce
Mixed Vegetable with Oyster Sauce
Large Sweet & Sour Sauce (2)
Main Course Curry Chicken
Main Course Curry Mixed Vegetable
Main Course Green Peppers & Black Bean Sauce Beef
Main Course Green Peppers & Black Bean Sauce Chicken
Main Course Mushroom Beef
Main Course Mushroom Chicken
Main Course Sweet & Sour Chicken Batter (8)
Main Course Sweet & Sour Chicken Hong Kong Style
Main Course Szechuan Chicken
Main Course Szechuan Chicken
Honey & Chilli Chicken Wings
Beef with Black Bean Sauce
Beef with Green Peppers & Black Bean Sauce
Chickekn Black Pepper Sauce
Chicken with Green Peppers & Black Bean Sauce
Crispy Chicken Cantonese Style
Chicken with Mandarind Sauce
Garlic Chicken witih Butter Sauce
Green Peppers & Black Bean Sauce Beef
Green Peppers & Black Bean Sauce Chicken
Ham & Pineapple Fried Rice
Yeung Chow Fried Rice (2)
Main Course Curry BBQ Pork
Happy Meal - Curry BBQ Pork
Chicken with Garlic Butter Sauce
£4.50
Beef with Garlic Butter Sauce
£4.80
King Prawn with Garlic Butter Sauce
£5.10
Squid with Garlic Butter Sauce
£5.90
Mixed Meat with Garlic Butter Sauce
£6.10
Sausage & Chicken Balls with Sauce
£4.50
Mini Spring Rolls with Sauce
£4.50
Salt & Chilli Chicken Chips
£5.00
Salt & Chilli Chicken Rice
£5.00
Chicken with Mushroom Chips
£5.00
Chicken with Mushroom Rice
£5.00
Chicken with Green Pepper in Black Bean Sauce Chips
£5.00
Chicken with Green Pepper in Black Bean Sauce Rice
£5.00
Beef with Green Pepper in Black Bean Sauce Chips
£5.00
Beef with Green Pepper in Black Bean Sauce Rice
£5.00
Meal Deal For 2 (A)
Starter:
Chicken noodle soup (2) OR mini spring rolls (10)
Main Course:
Breast of chicken curry OR beef curry
Sweet & sour chicken (in batter OR Hong Kong style)
Boiled rice (2) OR fried rice (2)
FREE Prawn crackers
£11.00
Mega Box
Chicken balls (4)
Spare ribs (4)
Chicken wings (4)
Spring rolls (4)
Fried rice & chips with separate sauce (2) (Curry, gravy OR sweet & sour)
£9.00
Meal Deal For 2 (B)
Starter:
Chicken noodle soup (2) OR BBQ spare ribs
Main Course:
Sweet & sour chicken (in batter OR Hong Kong style)
Yeung chow fried rice (2) OR yeung chow chow mein (2)
FREE Prawn crackers
£20.00
Happy Meal
Available All Night!
Choose one starter & one main course below (any change from 50p extra)
Starter:
Chicken sweetcorn soup
Chicken mushroom soup
Honey chilli chicken wings
Spare ribs with BBQ sauce
Mini vegetable spring roll (8)
Salt & chilli chips
Salt & chilli chicken balls
Chicken noodle soup
Mixed vegetable soup
Dry spare ribs
Chicken balls (4)
Sesame prawn on toast (4)
Salt & pepper chicken wings
Sweet chilli chicken wings
Peking ribs
Main Course:
Chicken OR beef OR BBQ pork curry
Mixed vegetable curry
Chicken OR beef mushroom
Chicken OR beef with green pepper & black bean sauce
Szechuan chicken OR beef
Sweet & sour chicken in batter (8)
Sweet & sour chicken Hong Kong style
Above main dishes include fried rice, boiled rice OR chips in separate tray. Chips 20p extra
Chicken OR beef OR ham OR BBQ pork fried rice
Chicekn OR beef OR ham OR BBQ pork chow mein
£6.50
Deep Fried King Prawn in Honey & Chilli Sauce
£5.50
Shredded Beef in Honey & Chilli Sauce
£4.90
Shredded Chicken in Honey & Chilli Sauce
£4.90
Chicken with Bamboo Shoots & Water Chestnuts
£4.50
Chicken with Bean Sprouts
£4.50
Chicken with Black Pepper Sauce
£4.50
Chicken with Garlic Chilli Sauce
£4.50
Chicken with Ginger & Spring Onion
£4.50
Chicken with Mandarin Sauce
£4.50
Chicken with Mushroom & Black Bean Sauce
£4.50
Chicken with Orange Sauce
£4.70
Chicken with Oyster Sauce
£4.50
Crispy Chicken Satay Sauce
£4.70
Crispy Shredded Chicken with Chilli Sauce
£4.70
Chicken with Green Pepper & Black Bean Sauce
£4.50
Crispy Shredded Beef with Chilli Sauce
£4.90
Beef with Bamboo Shoot & Water Chestnuts
£4.80
Beef with Ginger & Spring Onion
£4.80
Beef with Garlic Chilli Sauce
£4.80
Beef with Green Pepper & Black Bean Sauce
£4.80
Beef with Black Pepper Sauce
£4.80
Beef with Mushroom & Black Bean Sauce
£4.80
King Prawn Salt & Chilli Chow Mein
£6.60
Pork Salt & Chilli Chow Mein
£6.10
Beef Salt & Chilli Chow Mein
£6.10
Chicken Salt & Chilli Chow Mein
£6.10
Duck Salt & Chilli Chow Mein
£6.60
Special Salt & Chilli Chow Mein
£6.60
Mixed Vegetables with Sweet & Sour Sauce
£4.10
Mixed Vegetables with Garlic Sauce
£4.10
Mixed Vegetables with Curry Sauce
£4.10
Mixed Vegetables with Satay Sauce
£4.10
Mixed Vegetables Foo Yung
£4.10
Mixed Vegetables with Black Bean Sauce
£4.10
Mixed Vegetables with Cashew Nuts
£4.10
Thai King Prawn Chow Mein
£6.50
Mixed Vegetables Chow Mein
£5.10
King Prawn with Pineapple
£5.10
King Prawn with Cashew Nuts
£5.10
King Prawn with Ginger & Spring Onion
£5.10
King Prawn Szechuan Style
£5.10
King Prawn with Mandarin Sauce
£5.10
King Prawn with Oyster Sauce
£5.10
King Prawn with Garlic Chilli Sauce
£5.10
King Prawn with Green Pepper & Black Bean Sauce
£5.10
King Prawn with Black Pepper Sauce
£5.10
King Prawn with Mushroom & Black Bean Sauce
£5.10
Sirloin Steak
With mushrooms, onions & gravy sauce
£9.70
Chicken Maryland
Chicken breast, sausage, bacon, pineapple & banana fritter
£6.90
Roast Chicken Breast
With mushrooms, onions & gravy sauce
£6.50
Chips with Sauce Small
Add onion for 50p extra & mushroom for 60p extra
£2.60
Chips with Sauce Large
Add onion for 50p extra & mushroom for 60p extra
£3.60
Fried Rice with Sauce Small
Add onion for 50p extra & mushroom for 60p extra
£2.60
Fried Rice with Sauce Large
Add onion for 50p extra & mushroom for 60p extra
£3.60
Fried Rice & Chips with Sauce
Add onion for 50p extra & mushroom for 60p extra
£3.80
Hot Chilli Garlic Chicken Fried Rice
£5.90
Mixed Vegetables Fried Rice
£5.20
Sweet & Sour Chicken Cantonese Style
£4.50
Sweet & Sour Chicken in Batter
£4.50
Sweet & Sour King Prawn in Batter
£5.50
Sweet & Sour King Prawn Cantonese Style
£5.50
Sweet & Sour Pork Cantonese Style
£4.50
Honey & Chilli Spare Ribs
£5.20
Har Gaw (6)
Prawn dumpling
£4.30
Mix Dim Sum Platter for 2
£6.70
Mussels with Szechuan Sauce
£5.10
Mussels with Green Pepper & Black Bean Sauce
£5.10
Garlic Mussels with Butter Sauce
£5.10
Salt & Pepper Mini Vegetable Rolls
£3.90
Aromatic Crispy Duck
Served with pancakes, spring onions, cucumber & sauce
Portion
£8.10
Crispy Mini Vegetable Pancake Roll (12)
With sweet chilli dip
£3.30
Crispy Wonton
With sweet & sour sauce
£3.90
Special Combination Platter for 2
BBQ spare ribs, chicken wings, mini spring rolls, chicken satay skewer, deep fried wonton & sweet & sour sauce
£8.10
Siu Mai (6)
Pork dumpling
£4.30
Salt & Chilli Platter for 2
Chicken balls, ribs, chicken wings & chips
£8.30
Salt & Pepper Chicken Bites
£4.60
Salt & Pepper Chicken Wings
£4.50
Honey & Chilli Chicken Wings
£4.50
Salt & Pepper Chicken Balls
£4.60
Sliced Breast of Chicken Curry
£4.50
Contact Us
Find Us
973 Carntyne Road, Glasgow, G326LY
We deliver to
G31, G32, G33, G34